Online accounting* services for your
company in Germany
As companies branch-out into multiple markets at the same time, they would like to keep a centralized and holistic view on their accounting processes and data.
As accounting evolves into an even more data-driven process, we have introduced an AI-powered online accounting platform that supports the intercompany accounting processes of companies that need to orchestrate the accounting flow, as well as communication within and across multiple markets.
Our experience around intercompany accounting shows that an app alone is not sufficient. Companies need to have a personal accountant on their side who knows the business and understands their business transactions.
MyDashboard supports companies to share threir invoices internally as well as with our professional accounting teams. Our platform will automatically extract all accounting-specific information of your invoices to povide the required foundation to share data between multiple accounting systems, as well as local authorities.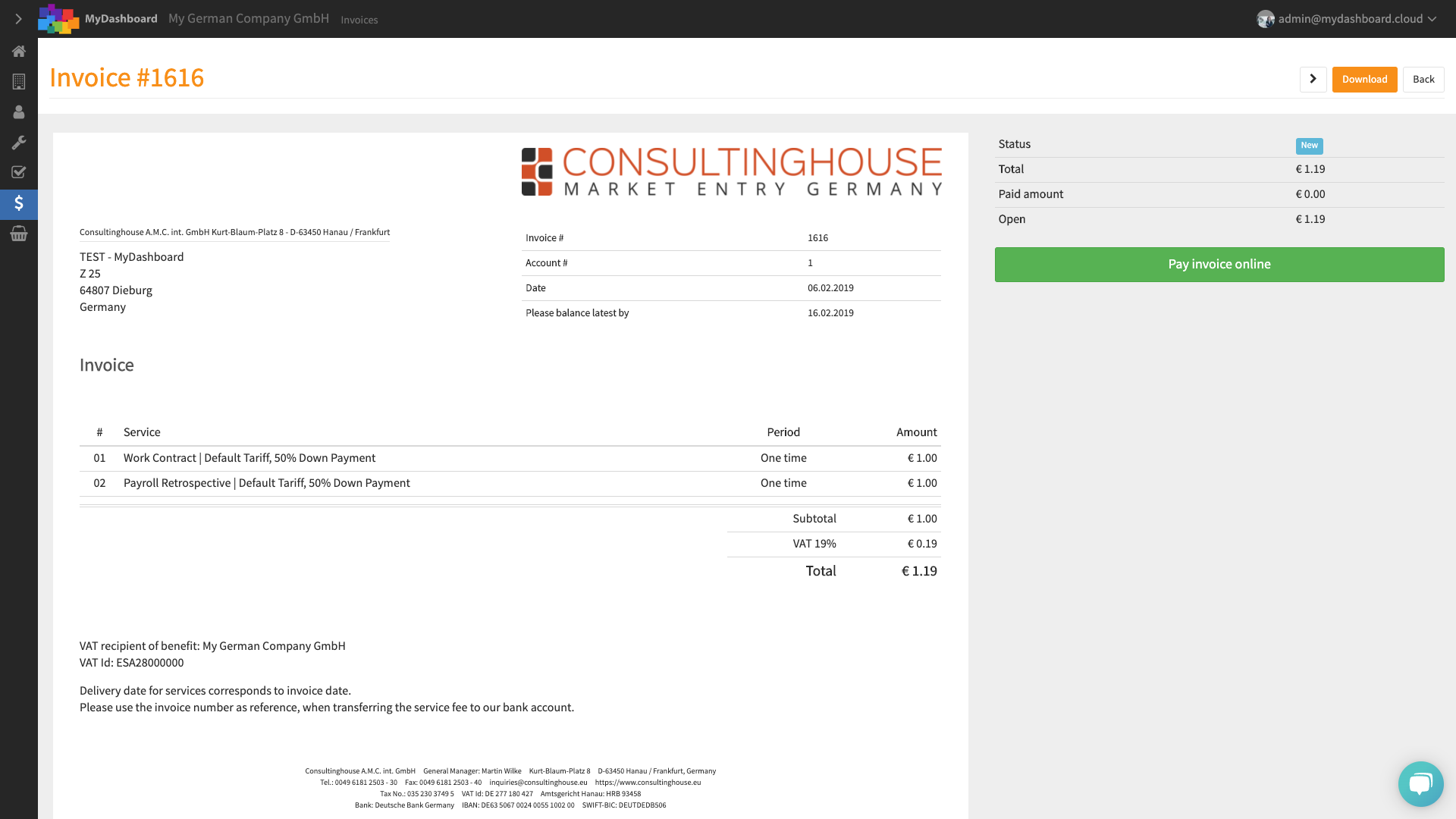 Rich AI-powered invoice extraction to support your accounting processes
Say good bye to manual work. Thanks to Machine Learning, our platform processes your invoices gradually more autonomous.
Our platform supports an 100% invoice extraction to support your end-to-end accounting processes.
Date
Currency
Tax
Amount
VAT-ID
Vendor
Our accounting team is there for you to make more out of your invoice data. Talk to us for custom reporting, controlling, as well as for accounting data exchange services.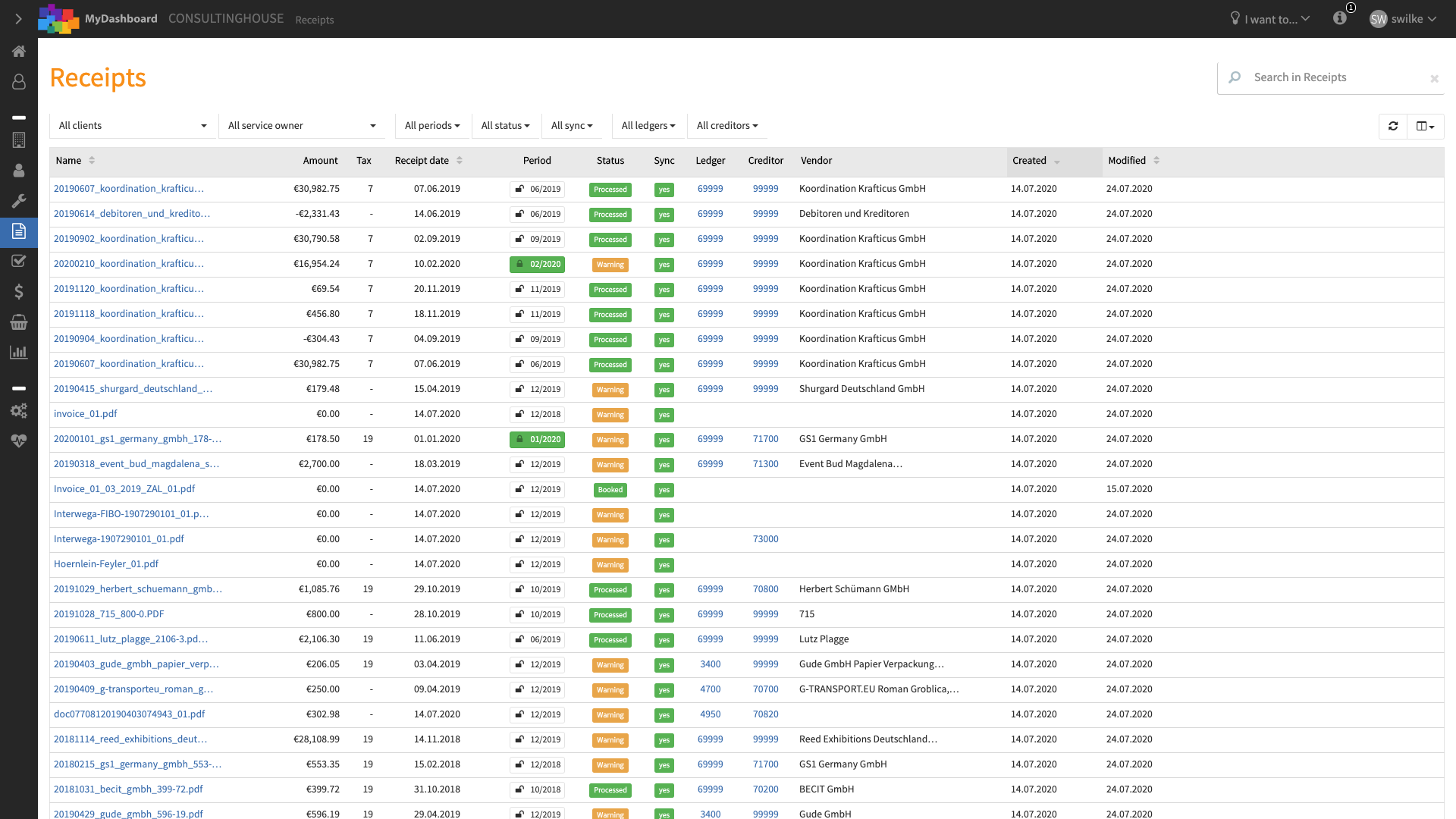 YOUR PERSONAL POINT OF CONTACT
We provide a dedicated accounting* professional for each client who can be contacted via email, chat or phone.
Our objective is to provide our international clients with a unique experience and answers within one business day. We are here for you, so you can focus on developing your business in Germany.
YOUR PERSONAL CUSTOMER PORTAL
Digitalizing the way we engage with our clients
Our customers are fast moving and extremely busy developing their business in Germany. For this very reason, we have introduced MyDashboard as your personal customer portal to digitally engage with our accounting service.
MyDashboard allows our accounting customers to
subscribe and to unsubscribe to the accounting services
easily submit monthly accounting documents like invoices & expenses
receive the monthly accounting report based on submitted transactions
find an eInvoice that also can be paid online (PayPal, CreditCard, ApplePay etc.
How to submit my monthly invoices and expenses
We have simplified the way how our clients share their monthly invoices & expenses with us.
How to view my monhtly accounting reports
We have simplified the way how our clients find access to their monthly accounting reports.
TO LEARN MORE ABOUT HOW WE CAN ADD VALUE TO YOUR BUSINESS IN GERMANY, PLEASE DO NOT HESITATE TO CONTACT US TODAY!
LET US BE A PART OF YOUR SUCCESS STORY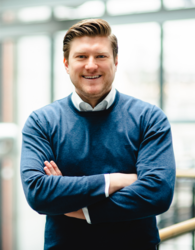 WHY US?
Strong experience in supporting foreign companies to develop their business in Germany
Our clients success is our success. Our objective is to grow along our clients
We are family owned. Our long- term perspective allows for good strategy and decision-making
Book your advisory call today
We help you to assess the current phase of your business and to build your personal roadmap about how your business can start and grow in Germany.
Market Entry Newsletter
Our newsletter covers the news you need. Subscribe now.